Okay, I think we're up to Monday now in our pictoral history of the Saudi Arabia trip!
This day we got up and took the group tour up to Ras Tanura. It's one of the other "camps" that the company runs. There are 4 in total and we visited 3 while we were there. This one is the farthest north and also right on the water. Must be rough...
First we had to tour the camp itself and at the first stop (the Women's Group house) we got treats, morning snack for Cory! Here I am trying to get ahead of Cory enough to take his picture, but the kid never stops! Grandpa's trying to keep up!
This is the golf course there. It's oiled sand. The only golf course that is grass is in the main camp (where we were staying) Dhahran. But just out beyond the end of those palm trees at the end of this fairway is the gulf!
Gorgeous blue water and white sand! On our maps this would be called the Persian Gulf, but Persia really refers to Iran - which is just across the water! So since we are in Arabia it is called the Arabian Gulf there!
Next up was lunch under some shelters. It was quite warm there so sitting out of the sun was nice. It was also pretty humid due to being next to the water.
After lunch and plenty of sunscreen... swimming!
I think this just might be my favorite picture from the trip!
The water was a bit cool, but once you got used to it it was quite nice. There was quite a bit of seaweed and some nasty plastic trash floating in the water, but it was still very clear. I've swum in much dirtier water! Also Brian is holding a piece of tar basically. It collects shells and things in it and you can break it apart a bit like semi-dry clay.
Uncle Joel spent the afternoon building a sand castle...
The water was very salty due to evaporation so we had to rinse off before going home. Cory is NOT a fan of shower water hitting him!
Back on the bus at 3:30 and Cory was out almost immediately. Swimming plus no nap made for one tired little boy!
This then is a typical view from the highway when driving through a populated area. The yellow and tan in the middle of the picture are houses and the other structures are more business type.
In the evening Paul and Jackie took Brian and I and Joel and Allison out to the "Hobby Farm" for dinner. Grandma and Grandpa kept the sleepy boy for us. The Hobby Farm is where people can have their horses if they have one. Jackie has had some over the time they've been there. And they have a small restaurant there where you can eat out on the porch and watch the horses. It's nice and the food is pretty decent even if it is mostly lunch style fare.
After this we went to the Rockin' Country dance. It's sort of a club where they do country dancing. It was fun, but there weren't a lot of people there. 40 of the annuitants (what they called us reunion attendees) had signed up and we were 4 of the 8 total who showed up. So they gave us boxed sets of polo shirt, mug, and ball cap with the company's 75th anniversary logo on them.
Mostly I enjoyed the evening out and a nice long dinner with adult conversation and no 2 year old interruptions! I didn't realize how much I'd missed that!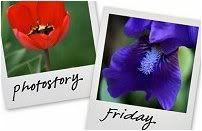 Hosted by Cecily and MamaGeek