And it's officially hot!
Unfortunately I think the air conditioner on my car needs some work or we're going to be in trouble! And it was
only
86 today!
I had some pictures of my friends' photo shoot to show you, but I think I'll save them for next week.
Tonight Cory was asking to go to the park so we walked over... and I forgot to have him wear a swimsuit!
See there's a water feature that they put in last summer, but never got approval for.
We discovered that it was on this weekend and Brian and Jason took the kiddos over while Amber and I took a nap (woo hoo!). But Cory wouldn't get in. So I didn't think I'd need the swimsuit tonight...
This photo is from a couple weeks ago.
We saw some friends and shared their popsicles. Then Cory decided he wanted to go see the water. I showed him how to put his hand in the spray and after a few laps around the outside he was right in the middle. Even standing over the jets that were coming up out of the ground. Needless to say he was soaked!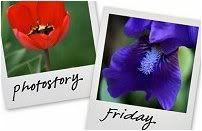 Hosted by Cecily and MamaGeek