Last year my husband bought me an orchid for Valentine's Day. It was in bloom and those blooms lasted for more than three months! I remember specifically that it was still blooming on Mother's Day.
Then I killed it. I either under watered it or over watered it. I'm not sure which was the actual killer.
So I bought another one because they were on sale and promptly killed it by trying to re-pot it.
This year my husband bought me a new orchid. This one is prettier because it has character. I love the spots! (last year's was pretty too, but it was solid purple)
Our good friend, Sami, keeps orchids and I have asked her how to properly care for it this time. Here's hoping it will keep blooming for 3 months and also bloom again!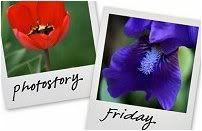 Hosted by Cecily and MamaGeek