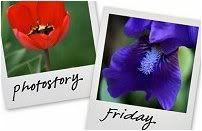 Hosted by Cecily and MamaGeek
Our local flight school held their annual show this past Saturday. Since Cory has recently discovered what airplanes are we thought it would be fun to take him. We/he was not disappointed!
This was a Chinese fighter trainer that a guy had bought. It was in very good condition and Brian got all the history (I was too busy chasing Cory!).
He let anyone who wanted to climb up on it and look in the cockpit. The stick was moving all around on it's own because it wasn't tied down and the flaps were moving in the wind.
There were plenty of small planes taking off and landing for Cory to watch. The airport fire truck drove by and showed off it's spray. Also the Miss Veedol replica took off - that's the first plane to make a trans-Pacific flight without stopping back in the 30's or something. And they made it as far as us in Eastern Washington.
They were giving rides for $20, which is a pretty good deal. But a guy standing next to us said it wasn't a good day, he'd just come back and it was so windy (and rainy) that you wouldn't enjoy it. So we passed on that opportunity to lose our lunch!
Join in with Photo Story Friday over at Cecily's.