Thursday before we're leaving...
Brian's dad was finally able to connect with some of the colleagues he had worked with in the 90's. They wanted to take us out for "lunch". Keep that in mind!
They arrived at 1pm - ish to get us. First we went to Hussein's house to get him and his wife and son. We re-arranged cars because the one that Cory and I were in had no air conditioning. And it happened to be the hottest day we were there. Still not hot compared to summer, but when we came from snow, 85 degrees is hot!
We went to a restaurant called Chinese Tandoori. This is what we saw along the way...
Once we got to Ali's house the women had dessert for us and then Cory had another poopy diaper (can we say traveling finally had caught up with him?). I was out of diapers so we needed to go. They were very nice and offered to go to the corner market and buy us some diapers, but it was also about 4:30 in the afternoon and the little guy just needed a nap. Not to mention that I had a splitting headache since I had a sinus infection (which I already wrote about before we left as my
Overseas Medical Adventure
).
Hussein said he would take us home and Cory really wanted to ride in the "yellow car" which belonged to Lath. We tried to put his car seat in the back, but as you can imagine it didn't fit. So I just sat in the front seat and held him on my lap. At first I was like, wait, this isn't legal. Then I remembered, oh, yeah, it actually is! We were only going a short distance at low speeds so it wasn't too bad.
Cory went right to sleep and I proceeded to take care of my nose with the neti pot... Paul came home (with antibiotics for me) and went to have a bowl of cereal and when he poured milk in it little bugs came floating to the surface! So we then had a cereal dumping party since every box in the cupboard that was open had bugs in it! Jackie and I had been finding them randomly all week, but couldn't figure out where they were coming from! Now we knew and we got them all!
Oh, and remember how I said this was a "lunch" invitation? The rest of the crew didn't get home until 10:30! I was really glad Cory and I had gone home earlier because, although they had some fascinating conversations with other people who came, we would have been miserable!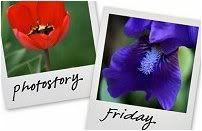 Hosted by Cecily and MamaGeek