I think having a faster computer is definitely helping me post more pictures... now if only I could get my camera back and have it work...
These pictures of us at the water slides today are courtesy of my mom, Nana, as she is trying to get Cory to call her.
We bought passes this year so hopefully Cory will get more and more comfortable and really enjoy it. Not the he didn't today, on no!
My mom doesn't slide as fast as I do (ask my camp friends how fast I go on water slides and how I got my nickname...) so she got the honors of taking Cory down the "big" slide for most of the time.
But really all he wanted to do was play in the water and they have a fantastic kiddie pool complete with water toys.
Oh, and this was
last summer
at the water slides... oh my, where is my baby gone to?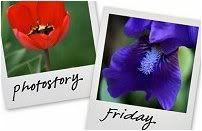 Hosted by Cecily and MamaGeek