Every year we get pumpkins and every year it seems a race to actually carve them before Halloween... last year I don't think we even made it!
This year, success. Pumpkin size relates to it's owner, although Mama carved Cory's.
Cory doesn't really "get" Halloween, but he loves pumpkins (has been pointing them out to me for weeks), thinks being a lion will be awesome (complete with roar), and of course loves candy!
Now, here's hoping it doesn't snow on Saturday as it can and has been trying to this week!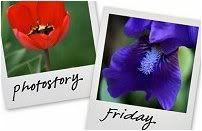 Hosted by Cecily and Carissa