We are so blessed where we live. Add this day to the one back in
October
where we got to see the airplanes that Cory loves and he's been pretty spoiled this fall!
It was a beautiful day (a bit cold, but hey, it's December!) and the train is in the park down by the river.
Unfortunately they were having a bit of trouble with the trains this day. They had already had to switch out one engine and then the train that Cory and Brian were on derailed! Well, the engine and the first car came off the tracks a bit. It wasn't a huge deal! ;)
So then Mommy and Grandma walked over to catch up and since it was taking so long some of the other people got out. Then we got in to ride the rest of the way around!
After our ride and while the next group was loading the engineer let Cory sit in his seat. He was fascinated watching the engine and hearing it be so loud!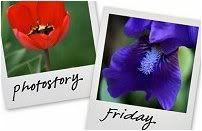 Hosted by Cecily and MamaGeek