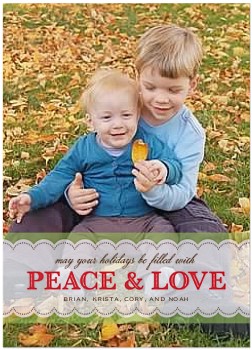 Full Of Love Christmas Card
I have to admit I'm a pretty big fan of Shutterfly. I'm picky when it comes to my scrapbooking and use a professional site, but for all the Christmas cards, pictures to give to friends and relatives, and random pictures I put on my walls, Shutterfly has the best quality and prices I've seen!
And they have the best selection of photo cards to fit any picture. I tried a couple of other sites with this picture actually and couldn't make it work. Either the colors clashed or they didn't have a space for a vertical picture that was big enough. But Shutterfly had not just one, but three options I could have used. This is my favorite!
For posting this I will receive a $25 gift certificate to Shutterfly, but all opinions are strictly my own!