My little son has been begging me for the past week to do "bubbles". And it has been raining like crazy and cold outside. (Once you see the bubbles you'll know why I was reluctant to let him do them inside...)
But this morning when we got up it was sunny! So right after breakfast we bundled up and went outside. The wind was whipping so the bubbles went everywhere. And of course he loved it!
I know how to dip for bubbles myself, Mom!
This is such a fun bubble wand that Dahlia gave us for his birthday. It's battery operated, but the fan is foam so it can't hurt him. He can obviously operate it all by himself...
I love how this one turned out with my slower shutter speed!
He was waving the wand all around and just surrounded by bubbles!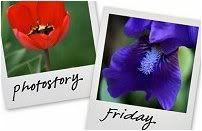 Hosted by Cecily and MamaGeek